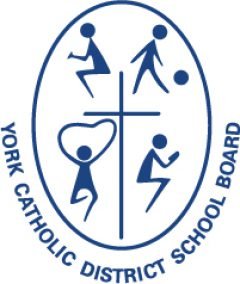 YORK CATHOLIC DISTRICT SCHOOL BOARD
Invites applications for the position of:
MUSIC TEACHER
Occasional Teaching and LTOs available
The Successful Candidate Will:
Plan, teach, assess and evaluate the music program for grades FDK - 8

Deliver music curriculum as approved by the Board

Travel to various schools throughout the Board

Required Qualifications/Experience:

Primary and/or Junior and/or Intermediate Division Qualifications or Basic or Additional Qualifications in Music (preference will be given to those with music qualifications)

Desired Qualifications/Experience:

Demonstrated knowledge of music theory and vocal ability

Ability to teach vocal music, recorders and percussion instruments

Demonstrated ability to read music

Accreditation in Orff (minimum Level 1) or Kodaly (as required in the revised Ministry Arts Document)

Background in Music (Degree in Music Education, other music accreditation)

Junior and/or Intermediate Qualifications to teach instrumental music

Ability to demonstrate and articulate the connections between the music program and literacy and numeracy skill development

Experience teaching music to junior and/or intermediate students

Strong interpersonal, collaborative and communication skills

Ability to provide direct support to teachers to enhance the learning of all students

Knowledge of Ministry expectations for music grades FDK - 8
Thank you for your application.
We appreciate your interest in the York Catholic District School Board, however, only applicants selected to continue to the interview process will be contacted by Human Resources.
YCDSB is an equal opportunity employer committed to providing an environment of diversity and employment equity and is dedicated to creating a workplace culture of inclusiveness that reflects the diverse communities that we serve.
We are proud to have built a culture that thrives on idea-sharing and collaboration, always finding ways to continue to create a warm, welcoming and inclusive work environment. We are committed to being an equitable employer, providing an inclusive environment for a diverse workforce, including but not limited to, women, persons with visible and invisible disabilities, Indigenous persons, and ethnic visible minorities.
Accessibility
The Board is committed to creating an accessible and inclusive workplace.. We are committed to providing barrier-free and accessible employment practices in compliance with the Accessibility for Ontarians with Disabilities Act (AODA). Should you require Code-protected accommodation through any stage of the recruitment process, please make them known when contacted and we will work with you to meet your needs. Disability-related accommodation during the application process is available upon request.
Vulnerable Sector Screening
As a condition of employment with the York Catholic District School Board, successful candidates will be required to submit a satisfactory "Vulnerable Sector Screening" prior to the commencement of any employment duties.
Mission Statement
Guided by Gospel Values and Catholic Virtues, in partnership with home and Church, we educate and inspire all students to reach their full potential in a safe and caring environment.
Vision Statement
Our students will become creative and critical thinkers who integrate Catholic Values into their daily lives, as socially responsible global citizens.
Catholic Education Centre
320 Bloomington Road West, Aurora, Ontario L4G 0M1 - (905) 713-1211
Elizabeth Crowe Domenic Scuglia
Chair of the Board Director of Education